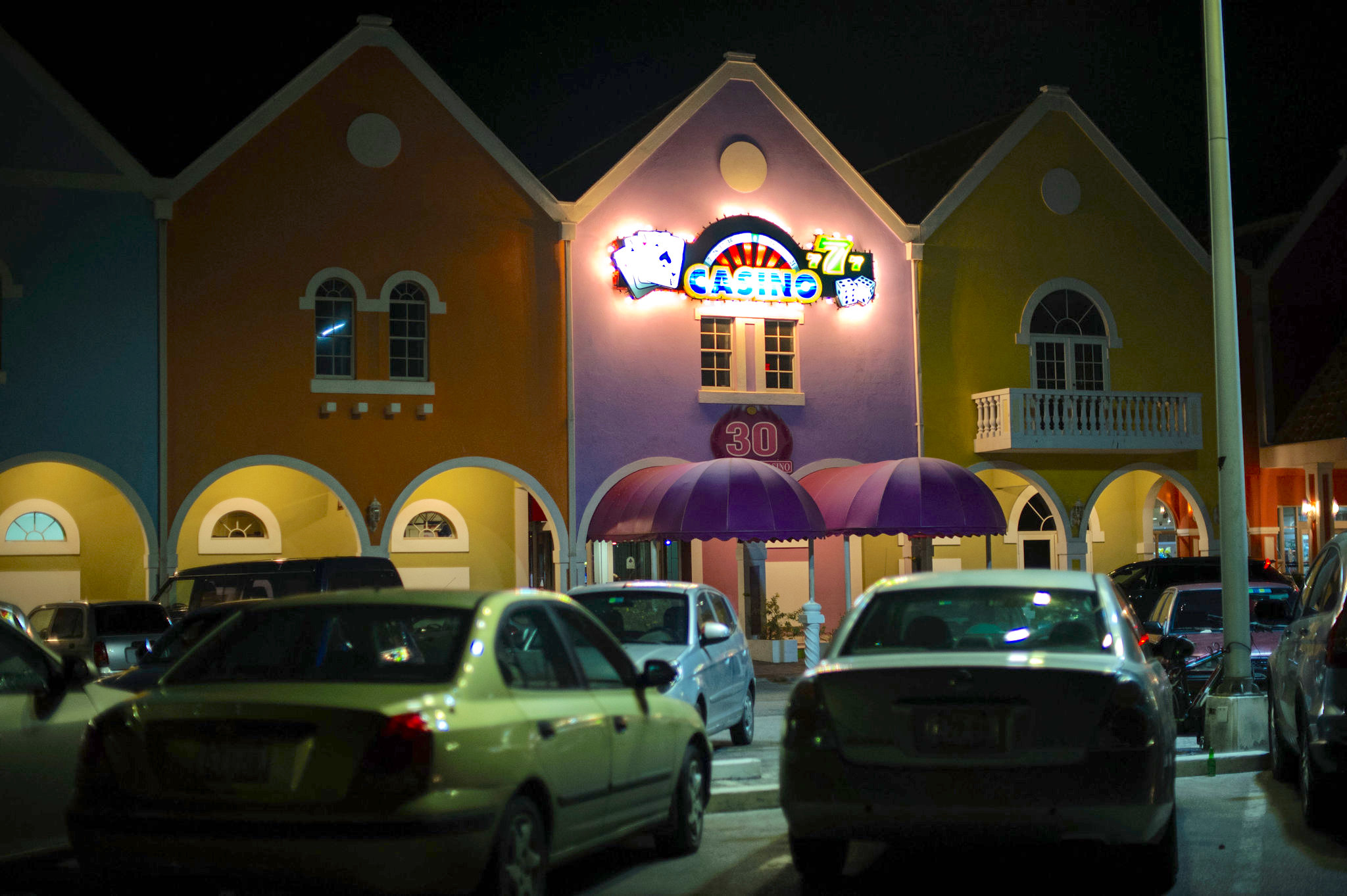 In 2015, The New York Times research team did an one year project on offshore online gambling from the island of Curacao, using part of my research and input. In collaboration with the PBS series "Frontline," the investigated illegal gambling in the Internet era. By the end of 2015, the following two New York Times (NYT) articles and PBS Frontline documentary were produced :
1) First New York Times article (october 15, 2015) 
Snippets:
"Reporters interviewed regulators, prosecutors, gamblers and technology experts; visited data centers in the United States and abroad; examined thousands of pages of government records; and used advanced Internet technology to explore how offshore gambling sites, like from the island of Curacao, serve American bettors.
The Times reporters tried to interview Pinnacle officials at their office in Curaçao, but were accused of trespassing and told to leave. Later, in a statement, Pinnacle said that it "pulled out" of the United States in 2007 and that since then, "we have never knowingly taken bets from the United States."
While in fact, an agent's website instructed gamblers using the Pinnacle site to use a proxy service to log on when making bets, to make it appear that the connection was not coming directly from the United States. The agent instructed the reporter to wire money to an intermediary in Krakow, Poland. The money was then credited to the reporter's account, which falsely listed him as living in Macau."
"Major gambling ring run out of from Curacao
Curtis Coburn worked years undercover for the Plano, Tex., police, building a case against a major gambling ring run out of Curaçao. "It was hard to convince people that it was as big as it was," Mr. Coburn said. Twice the federal government assigned an agent to the case, but both times the case was shut down. "It was very frustrating."
Eventually Mr. Coburn contacted a federal agent he knew and they convinced the Justice Department that the gambling ring was a worthy target. By the time prosecutors broke the ring in 2012, it had processed bets worth billions. One of the ring's leaders, Mr. Coburn said, told other bookies that he had accumulated so much money that he put $20 million into the wall of a house."
"Chasing Ghosts
Offshore gambling sites, hoping to do business in countries where gambling is legal, are often licensed in small island jurisdictions like Malta, Alderney in the Channel Islands, and Curaçao, just off the Venezuela coast, as well as in Costa Rica.
While Malta strictly oversees these sites, he said, other countries, like Curaçao, have been less vigilant. Experts say strict regulation offers some protection against illegally accepting American customers.
"Curaçao believes very much in self-regulation, Mr. Galea said, adding that attempting to find a gambling regulator there would be like "trying to call a ghost."
The Times gave it a try during a recent visit to Curaçao, home to gambling sites that have processed bets from multibillion-dollar criminal betting rings in United States. But no one in authority there would agree to talk in specific terms about the island's online gambling industry — not the governor, who issued gambling licenses; not the Ministry of Justice; not the Ministry of Economic Development.
A representative of the Gaming Control Board agreed to talk, but changed his mind while a reporter was en route.
Given the United States' position toward online gambling, said Zulaika Mook, Curaçao's director of Economic Development and Innovation, "there is no benefit to further deepen this topic."
The Curaçao government has issued six "master" licenses for online gambling, with each license holder having the authority to issue sublicenses to other gambling entities without the government knowing about it, according to Emily Cannister of the Justice Ministry."
2) Second New York Times article (october 28, 2015)
Snippets:
"The story of Pinnacle — pieced together from documents and interviews as part of The New York Times's investigation of unregulated online gambling, in collaboration with the PBS series "Frontline" — is a case study of how more traditional, and far less public, offshore sports books operate and, at least for now, survive on American soil. Indeed, experts say illegal sports betting remains a considerably larger business than its legal cousin, fantasy sports.
In a statement, Pinnacle said it "pulled out of the United States in 2007," after the passage of the federal online gambling law, and since then had "never knowingly taken bets from the United States." The company says it is fully licensed in Curaçao, where online gambling is legal.
However, American and European investigators have determined that since 2007, Pinnacle has had thousands of betting customers in the United States, documents show.
What's more, using advanced Internet technology, The Times found that Pinnacle, along with other gambling sites, had quietly developed a direct digital presence in the United States, allowing it to communicate quickly with its potential customers. Speed is the currency of today's Internet, where users expect a website rich with graphics and interactive features, but may abandon the site if it takes more than an instant to load.
How many of Pinnacle's users are actually betting or simply visiting the site cannot be known. What is clear, though, is that by 2014, vast amounts of gambling data, once housed legally offshore, were being delivered to the United States from equipment in New York, Miami, Chicago, Dallas and elsewhere.
This represented a new and pervasive domestic presence, one that investigators have largely overlooked.
"For them to knowingly collect data in New York for the purpose of furthering a bookmaking enterprise, if that's what they're doing — that would be a significant exercise of brazenness on their part," said Gerard Brave, the chief of the rackets bureau for the Queens district attorney, Richard A. Brown, who has prosecuted Pinnacle operatives in recent years; the company itself has not been prosecuted in the United States.
Mr. Brave added, "That would be very interesting to us, and we would certainly be looking into that."
In its statement, Pinnacle said: "All content is delivered legally from Curaçao. We use U.S. traffic acceleration companies, which is fully in compliance with all U.S. laws."
But last week, as this article was nearing publication, United States traffic to the Pinnacle website abruptly shifted from equipment on American soil to servers in Europe and elsewhere, according to an analysis by Dyn, an Internet performance company.
Each online sports book has its own DNA. Some are run by Mafia associates or are part of larger criminal enterprises. Pinnacle is different. There has been no shortage of old-time bookmaking techniques, including operatives making street drops with bulging bags of cash. But some of its senior operatives have had an unusual social conscience, attuned to gay and environmental groups, and campaigns to protect whales, dolphins and children in need. And it has often been ahead of the pack, and of investigators, in its use of the Internet.
To understand how betting rings employ the Internet to navigate around legal traps requires a journey to places that, for most people in the online age, are far more foreign and remote than a Caribbean island — places where the virtual and physical worlds intersect."
"Pinnacle Is Born
Every successful sports book needs a Stanley Tomchin. He is not shy about his analytic mind, his digital foresight or his role in the building of Pinnacle. Raised on Long Island but now living in Nevada, Mr. Tomchin, 70, acknowledges that he not only helped establish Pinnacle in Curaçao, he also handled one of its most important jobs.
"My role was the oddsmaker," he said in written responses to questions from The Times. "My knowledge and experience allowed me to make better odds than N.Y., Las Vegas, anyone in the world."
Mr. Tomchin claims to have been one of the original members of the so-called Computer Group, credited in gamblers' lore with bringing the first computer-based betting schemes to sports books. His reputation is such that he was featured in the book "Gambling Wizards: Conversations With the World's Greatest Gamblers."
"At 8 or 9 years old, I was walking around with $500 in my pocket," the book quoted him as saying.
In the 1990s, Pinnacle Sports began operating in what was then the Dutch territory of Curaçao, one of the Caribbean islands where American bookmakers sought to escape the scrutiny of United States prosecutors even as they lured American gamblers. The government showed little interest in regulating bookmaking.
Mr. Tomchin, who says he has been with Pinnacle from the start, said the company established its headquarters on the second floor of the Holiday Beach Hotel and Casino after he spotted the building while on vacation.
Pinnacle initially ran a telephone-betting service aimed at the United States market, but quickly realized it could attract more customers if it reduced its "juice" — the bookmaker's cut — by turning largely to computers.
At the same time, on Antigua, Jessica Davis, a granddaughter of former Gov. John E. Davis of North Dakota, was working at another sports book, Worldwide Telesports. Ms. Davis appeared in a Times article in 1998 under the headline: "With Technology, Island Bookies Skirt U.S. Law." Customers in the United States could place their bets with Antiguan operators or on a relatively primitive website.
American law enforcement caught up with Ms. Davis; an indictment, unsealed in 2006, charged her with gambling-related offenses, for which she eventually received probation. Those charges, though, did not dissuade Pinnacle from hiring her and eventually elevating her to chief executive, though by then she had a new name — Paris Smith. ("Aliases are common in the industry," Pinnacle said in its statement. "Ms. Davis has never hidden her use of an alias.")
The company's senior operatives included a flamboyant Californian, George Molsbarger, who lists himself as a Pinnacle co-founder.
Neither Mr. Molsbarger nor Mr. Tomchin has the profile of an old-time gambling boss. Mr. Tomchin is an active donor to a variety of liberal political causes. Mr. Molsbarger has also played the role of philanthropist, running a foundation for children in need, the Squid & Squash. One of its fund-raisers, at the Playboy mansion, featured "the sexiest go-go dancers strutting their skills on poles," according to a company that provided entertainment.
Pinnacle donated more than $2 million to the foundation.
The gambling site could certainly spare the money. When times were good, it processed bets worth billions annually, records show. And it wired more than $4 million to a Canadian bank as payment, Mr. Tomchin said, to buy his Pinnacle stock.
But a crisis was brewing. Just months after prosecutors took down Ms. Davis's $2.5 billion gambling ring in Antigua, signaling a more aggressive posture toward offshore sports books, Congress passed the 2006 Internet gambling law, barring the use of credit cards to place online bets.
Pinnacle responded by trying to look beyond the United States market, and by 2008 its annual intake had dropped to $5.7 billion from $12 billion, according to documents filed with regulators on the English Channel island of Alderney, where Pinnacle had sought a gambling license.
But with so many Americans eager to bet on sports, Pinnacle must have realized it could not abandon such a lucrative market — a fact that did not escape the Queens prosecutor.
"Confidential information came to us that a certain individual was engaged as an agent in organized sports betting," Mr. Brave said. That individual led investigators to New Jersey, then Las Vegas, then Los Angeles and back to Queens.
Soon, investigators would begin wiretapping conversations of gamblers and their agents. When they passed sacks of cash, investigators were on hand to photograph them."
"Hiding Profits
Because wiring money leaves a trail that can be easily detected, gambling money from offshore sports books often remains in the United States, creating the need for a shadow banking system where bettors settle up in person with the ring's agents or money collectors.
Gamblers and agents in the field had to find ways to hide large sums of money, which must be reported under anti-money-laundering regulations. Some gamblers passed bulging envelopes in country club parking lots and from bar stool to bar stool. Others stuffed money into casino safe deposit boxes and used casino chips as currency to transfer funds.
To penetrate this system, the investigators relied on wiretaps to pinpoint the place and time of these cash transfers so they could take surveillance pictures.
In May 2012, undercover agents watched Mr. Molsbarger enter a California restaurant with a brown suitcase. It was heavy enough that he was pulling it on rollers, and no wonder: The suitcase held $1.5 million in cash. Mr. Molsbarger handed it to a man named Scott, who put it in the trunk of his car. Local deputies stopped the car in Pico Rivera and confiscated the cash.
"Pinnacle stands by it, right?" bookies were heard asking on the wiretaps, according to court records. "What if this money goes missing?"
They need not have worried. Pinnacle replaced the money in less than a week, records show.
Suspecting that the police might be listening in, bookies and agents tried to disguise their business conversations. When agents, for example, needed to transfer $350,000 in June 2012, Mr. Tomchin arranged for his sister, Joy Tomchin, a New York real estate developer, to accept the money in a bag on Manhattan's Fifth Avenue. Later he was recorded asking her if she received "three fifty worth of grapes," and she answered affirmatively, court records show.
Also under scrutiny was Michael Colbert, a risk manager for sports books at eight casinos in Las Vegas, where betting is legal. According to a later indictment, Mr. Colbert, who worked for the gaming unit of Cantor Fitzgerald, the Wall Street trading firm, allowed so-called runners to place bets for out-of-state customers at Las Vegas casinos, which is illegal.
The Queens district attorney made his move in the fall of 2012, charging 25 people in connection with offshore sports books, particularly Pinnacle. The company was not charged, and asserts that none of those charged were employees.
"There were thousands of accounts," said Mr. Brave, the rackets bureau chief. "There were scores of agents. We had 25 people, but we could have charged 125 people."
3) Third, a PBS/Frontline documentary production (february 9, 2016)
Full PBS Frontline documentary : The fantasy sports gamble
This 2016 PBS/Frontline documentary explains visually and in details the new and continuing and advanced criminal activities of unregulated and illegal offshore online gambling activities of Pinnanclesports from the island of Curaçao, still targeting the USA market in 2015, nine years after the USA had banned illegal gambling on October 13, 2006 in the USA illegal Gambling Act. For more background about this documentary, click here.
(The Pinnacle-Curacao story starts from minute 19.45)