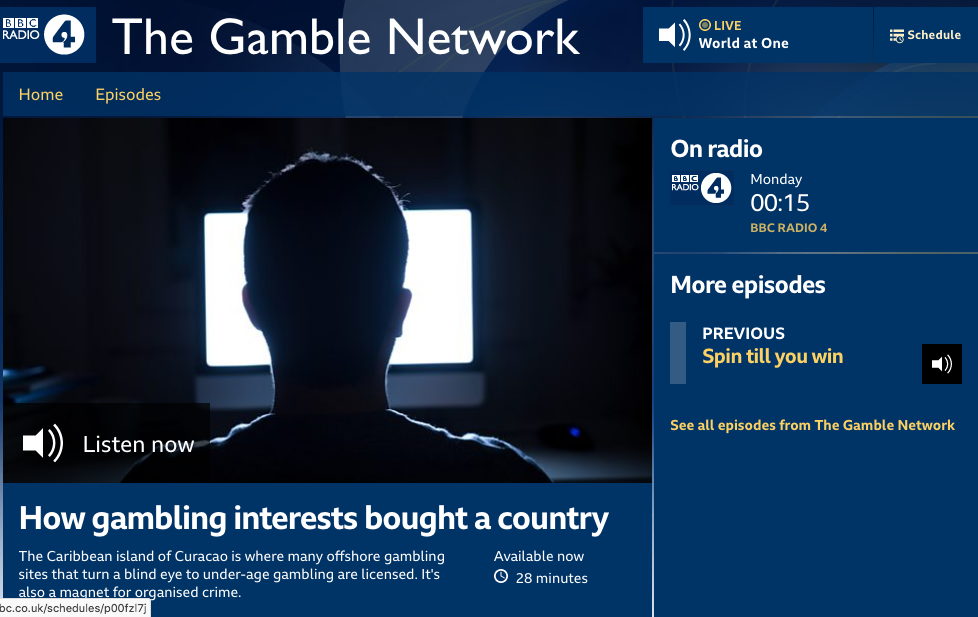 In the beginning 2019, I was interviewed by the BBC as an media and Dutch offshore online gaming expert. In this three chapters radio reporting production, BBC producer Jolyon Jenkins unveils more new Dutch offshore online gaming criminal activities from the Dutch Caribbean Islands onto the UK and European market.
Episode 1
The Gamble Network: The Loot Box scandal
Broadcasted on BBC Radio 4 on Wednesday 24 Jul 2019
Does the business model of video games companies encourage children into gambling?
Jolyon Jenkins investigates whether children are being encouraged to gamble through the business model of video games companies, who encourage players to open random 'loot boxes'.
Episode 2
The Gamble Network: Spin till you win
Broadcasted on BBC Radio 4 on Wednesday 31 Jul 2019
How an illegal gambling site tried to pay an underage Youtuber to fraudulently promote it
An illegal gambling website approached Jolyon Jenkins's teenage son to make a Youtube video promoting it. They promised to rig it so he would definitely win. What happened next?
Episode 3
The Gamble Network: How gambling interests bought an island
Broadcasted on BBC Radio 4 on Wednesday 7 Aug 2019
How a small island in the Caribbean became a haven for unregulated online gambling
In the last chapter, 'How gambling interests bought an island' (at https://www.bbc.co.uk/programmes/m0007bwl) Jenkins exposes the very heart of money laundering: the unlawful practises in an Egaming master – sublicense infrastructure, and the unregulated situation as), hidden within anomymous, tax-exempted shell companies in E-zone datacenters and taxrulings, governed by the biggest Dutch offshore financial industry leaders and bankers, facilitated for more than 25 years by the Dutch government, including justice, intelligence and security departments.
The trail leads us to Curacao, a small island off the coast of Venezuela. This is where many of the offshore gambling sites that at least turn a blind eye to under-age gambling are licensed.
These Curacao licences have no validity in the UK, but they do allow operators to open bank accounts. According to the US State Department, Curacao is a major route for money laundering of drugs money from Latin America, with online gambling being one of the methods used. But who issues the licences?
The plot thickens as it turns out that the licensing system is of doubtful legality, and could have been designed to encourage political corruption. In fact, we discover, one of Curacao's top politicians was assassinated a few days after threatening to blow the gaff on gambling practices. The first prime minister of the newly autonomous island was jailed for political corruption, after it was shown that he had laundered money received by a major gambling operator alleged by the Italian police to have mafia connections.
So it appears that from the outset, organised crime set out to buy an island to facilitate gambling and drug money laundering. Could it be that the gambling your child is doing with video games is ultimately connected to organised crime and murder on the other side of the world?
KKC remarks:
The responsible minister of Justice of the Netherlands, the prime minister of Curacao and the Attorney General of the public prosecution offices of Curacao, Aruba, St. Martin, Bonaire, Saba and St. Eustatius so far have declined to comment on the BBC findings to the Knipselkrant Curacao.